Smile Makeover
If you are unhappy with the way your smile looks, you may be considering cosmetic dental treatment to improve the look of your teeth. There are a wide range of cosmetic treatments available at our practice, with something to suit every patient's needs and budget. For patients who are interested in cosmetic dentistry but are not sure which treatment best suits their needs, we provide smile makeovers.
Smile makeovers make use of the latest technology to assess your smile and work out which treatments will work best to give you the smile of your dreams.
You may be looking for a quick brightness boost in preparation for a special occasion such as a wedding or important business meeting, in which case tooth whitening may give you the smile you've always wanted. Alternatively, if your teeth are gappy, crooked or cracked, we may recommend porcelain veneers, composite bonding or discreet orthodontic treatment.
Once we've established what you want to achieve, we'll use photographs, x-rays and in some cases models to show you what we can do, and discuss the best treatments for your individual case.
Case Study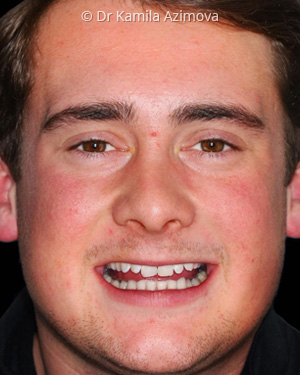 Here's how it works:
You'll visit the practice and discuss with our experienced cosmetic dentist what makes you unhappy about your smile, and what you want to achieve.
Your dentist will take photographs and x-rays as necessary, and will scan them into the computer.
They will discuss the various options available to achieve the results you want, and will show you what to expect from various treatment options.
Once you've agreed on your treatment, we will then provide you with a detailed treatment plan. In some cases it is possible to start treatment straight away.
Life Benefits
You can see how your new smile will look before you start treatment.
You'll be able to choose the best treatment for your individual wants and needs.
The result will be a healthy, beautiful smile that you want to show off.
Book an Appointment
Veneers
Are your teeth stained, chipped, or not aligned on top of each other? Veneers are a good treatment option to consider because they look like natural teeth and don't require a major procedure. Veneers can also be used to close small gaps when braces are not suitable. If one tooth is slightly out of position, a veneer can sometimes be fitted to bring it into line with the others.
Here is how they work:
A veneer is a very thin, tooth-coloured piece of porcelain (like a false finger nail, but more durable) that is bonded on top of your own tooth.
Based on your needs, the shape and size of the veneers can be adjusted to make your teeth overall look longer and or closer together.
You can have just one veneer fitted or a whole set, known as a smile makeover.
Life Benefits
Simple and quick solution to improve the cosmetic appearance of teeth.
Long-lasting smile enhancement.
Natural-looking restoration.
Book an Appointment
Composite Bonding
Composite bonding is an increasingly popular cosmetic dental treatment that is used to improve the shape, colour and overall appearance of patients' teeth. It uses the same resin material used for white fillings, and is most frequently used on the front teeth – those that show when you smile.
There have been huge advances in the materials used in bonding dentistry in recent years, meaning composite bonding can be used for disguising minor imperfections in the front teeth, closing small gaps and hiding minor tooth rotations, with no damage to your teeth.
Composite bonding is a pain-free experience that requires, in most cases, just one visit to the practice. Your dentist will be able to choose a shade of resin that closely matches the colour of your teeth, meaning that the results will look entirely natural.
Case Study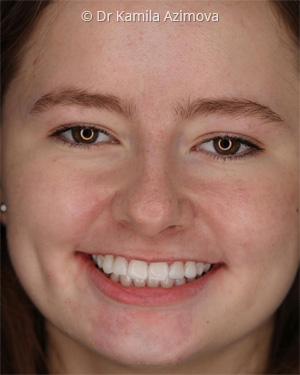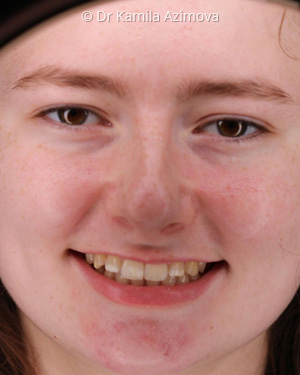 This is how the treatment works:
Your dentist picks a shade of resin that matches the natural colour of your teeth.
The resin is carefully applied to your teeth, with no need for any work or damage to them.
Your dentist then carefully shapes and smooths the resin to hide any imperfections, for a result that looks entirely natural.
Once the resin has been shaped, it is hardened very quickly with the help of a special light.
Although composite bonding treatment does not last as long as veneers, many patients find the treatment is highly cost-effective. It can also be repeated with no damage at all to your teeth.
Life Benefits
A natural, healthy smile that you are proud to show off.
No preparation of your teeth is required, meaning they remain strong.
Treatment can usually be completed in one short visit to the practice.
Book an Appointment
Teeth Whitening
If you are self-conscious about the shade of your teeth or if you have staining on some of your teeth, professional teeth whitening treatment is a safe and recommended option for you to consider.
Case Study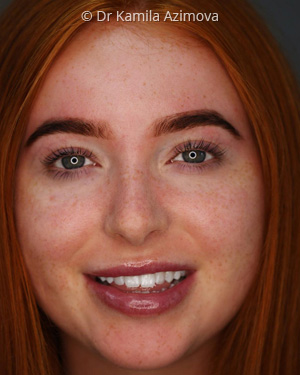 Here is how teeth whitening works:
You will be assessed for the type of staining your teeth have.
A custom tray is made to fit snugly over your teeth.
The teeth whitening process is activated by a bleaching agent, which is inserted into the custom tray that transfers it onto your teeth.
Home teeth whitening kits are also available to lighten the teeth more gradually. In this case, the trays with bleaching agent can be worn overnight. With all whitening treatment, individual results will vary and are dependant on your initial tooth colour and the nature of your tooth staining.
Life Benefits
Effective solution for certain types of tooth discolouration and staining.
Safe treatment when delivered by a dental professional.
Cosmetically enhances the appearance of teeth.
Book an Appointment
Invisalign
What is the Invisalign System?
The Invisalign System is a virtually invisible treatment that uses an innovative approach to gently yet effectively straighten your teeth.
Through a series of custom-made removable aligners made with unique SmartForce technology, the Invisalign system gradually and predictably moves your teeth to your desired position.
How does the Invisalign System work?
Initially, your Invisalign-trained doctor will take photos, X-rays, and digital scans or a dental impression to help create your treatment plan.
The maker of Invisalign clear aligners will then use these records, along with the treatment prescribed by your doctor to create a customised 3D treatment plan just for you. With the treatment plan, you'll be able to see the final position your teeth are predicted to reach after treatment. This treatment plan is used to develop your customised aligners and also estimate the likely length of your treatment.
The customised aligners will be manufactured and shipped to your doctor's office.
Your series of custom-made aligners will be given to you (typically 3-4 sets at a time) for you to wear every day and change them at home approximately every 2 weeks.
You'll be visiting your Invisalign-trained doctor approximately every 6-8 weeks to monitor the progress of your treatment and receive the next series of aligners.
After you've finished your Invisalign aligner treatment, you may need to use retainers to help make sure the new position of your teeth is maintained.
Case Study